Cardinal Stafford
Library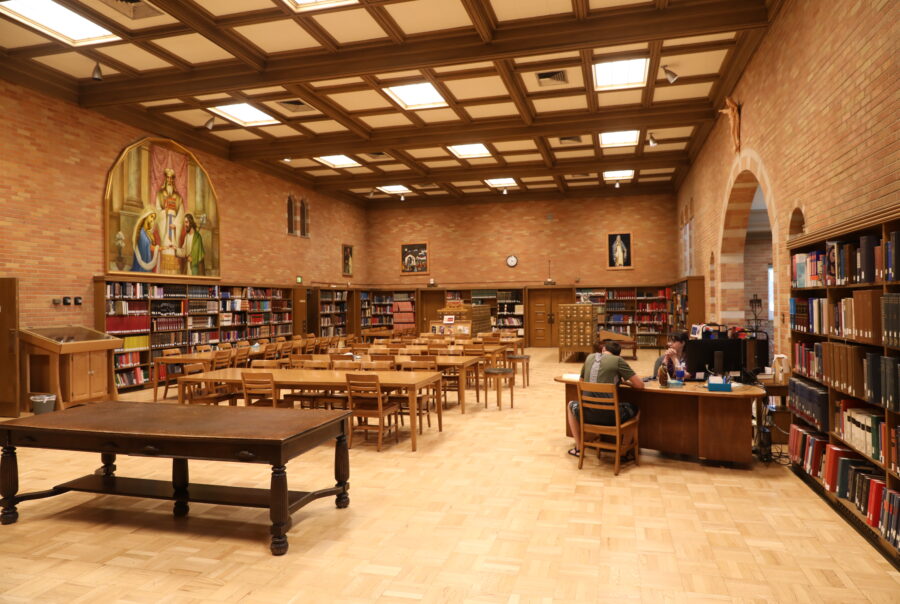 Welcome to the Library!
As of September 2022, the Library is open only by appointment from 10am-2pm Monday-Friday. Contact a library staff member to schedule your appointment. The Library's Interlibrary Loan service allows faculty and students from St. John Vianney Seminary and the Augustine Institute only to obtain materials from other libraries that are unavailable at Cardinal Stafford Library.
While you're in the Library, be sure to spend some time in the Reading Room, look at one of our over 150 subscription journals, relax in the G.K. Chesterton Reading Room, or browsing the books curated for sale. After you schedule your appointment, our staff can help you locate the materials you need.
1932 – Formal organization of the Library by the Seminary
1956 – Our current space finished construction
2014 – Climate control renovations occurred
2018 – New lighting installed
2019 – Flooring in the Reading Room was refinished
2020 – Existing furniture in the Reading Room was beautified
160,000 – Approximate number of volumes held by the Library
Every day, you, our family of donors, make this possible.
Your investment in St. John Vianney Theological Seminary empowers our men to become priests who positively impact parishes throughout the Archdiocese of Denver.
St. John Vianney Theological Seminary consists of three divisions, allowing our faculty and staff to work together to educate and form persons called to different vocations within the Church
Donate Now